Bark in Cotton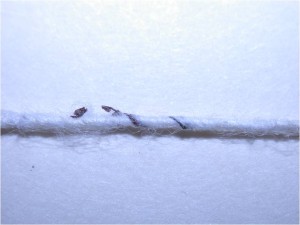 There have been some concerns and questions levels of bark after the 2012 crop. Dr. Thomas Valco, the Cotton Technology Transfer Coordinator for USDA, AMS has been investigating possible reasons for the increased percentage of bales classed as barky in the past few years. Some thoughts Dr. Valco shared about the cause of increased bark levels are discussed below. The late crop this year could certainly lead to high bark levels again.
Barky Cotton Update
In the past year, bark was a major problem for Southeast and Mid-South cotton producers.  The figures below show the level 1 bark calls for the Southeast and Mid-South states, which in most cases have increased over the past two years. The Southeast had extremely high levels of bark in 2012, especially South Carolina, Georgia and Florida, with 13.3, 12.4 and 12.1 percent of their bales with high levels of bark, respectively. Mid-South bark levels were much less but very high considering optimum harvest conditions and weather in 2012. It's not unusual for the stripper harvested areas in Texas, Oklahoma and Kansas to have high or even higher bark levels depending on plant and weather conditions prior to harvest but these bark levels have reached a level of concern for many folks.
There are many theories for the increased bark levels but no one is really sure. As will be illustrated in the following discussion, the only hypothesis that has some supporting data is the impact of delayed harvest. Other theories include:
Weather issues?

Delayed cotton harvest
Early frost
Increased disease pressure
New cotton varieties?

Later maturing
More susceptible to disease
PGR management
Changes in harvest-aid material?

PPO inhibitors (Aim®, Blizzard™, ET™,etc.) cotton defoliant/desiccants
Deteriorating or DEAD cotton @ harvest

Fusarium wilt, Charcoal rot (Macrophomina phaseolina), Lasiodiplodia theobramae (Diplodia spp), Others?
New harvesting technology?

More aggressive picking mechanisms
Round Module Handling Systems
Greater classing scrutiny?

Changes in trash level measurements – 2011 & 2012 AMS use of Instrument leaf grades
It's difficult to make recommendations when the reason or reasons for the increased bark levels are not known. However, some of the basics still hold true.
Good defoliation and timely harvest. Most classing office data shows bark levels increase when harvest is delayed. Both good defoliation and timely harvest can help to reduce bark calls. Early frost on growing plants will cause bark to separate from the stem and end up in the cotton, even with pickers. As plants stems deteriorate, they are more easily broken off during picking and enter the harvester and ultimately the gin.
New Cotton Varieties and Production Practices. Cotton varieties change fast and producers don't have a lot of experience managing new varieties. University variety trials that have AMS classed samples show variability in bark levels with varieties, as shown below. (2012 Bark data was not recorded)   This variability also shows up in gin recap data. At one gin, bark levels ranged between 4 to 44 % for different varieties (with 3,000 bales or more). However, no production information is available to support any physical or physiological differences between varieties.
2010

2011

Variety*

locations

bark calls

locations

bark calls

Am 1550 B2RF

14

0

18

1

DP 0912 B2RF

14

0

18

1

DP 1034 B2RF

14

0

18

0

DP 1133 B2RF

18

2

Dy 2570 B2RF

14

0

18

1

PHY 375 WRF

14

0

18

0

PHY 499 WRF

18

1

ST 4288 B2RF

18

2

ST 5288 B2RF

14

0

18

0

ST 5458 B2RF

14

0

18

5

Total

98

0

180

13

7.2%
Darian Dodds, MSU Cotton Variety Test Data
*Selected varieties from 2011 locations along with 2010 comparisons.
There have been studies that correlate cotton leaf hairiness to leaf grade, but classing office data does not show there is strong correlation to leaf grade and bark calls. Variability in bark levels for different varieties could be related to later maturing, less determinate, and/or more susceptible to disease. Variability could also related to different production practices such as fertility levels, irrigation and PGR management, defoliation/desiccation products, etc.
New harvesting technology.  In 2007, Deere and Co. introduced the JD 7760 cotton harvester. This picker combines high speed productivity and on-board module builder. Some producers think the aggressive picking mechanisms and increased field speed could be causing increased stems and bark in the cotton. Others think that dropping the round modules in the field, then staging them with lift forks causes stalks to be gathered on the outside of the module, picked up by the module truck and delivered to the gin.   A limited amount of gin recap data has not validated this theory. Keeping the module yard free of cotton stalks and out of the gin will help minimize the chance of getting stalks into the gin regardless of the harvest method.
Removing Bark at the gin. At the gin, stick machines and the extractor feeder are best at removing stalks and stems. If the stems make it to the gin stand, they are shredded and bark is separated from the stems. Once in the lint it is difficult to remove.  Additional lint cleaning can help reduce the bark levels, but will not eliminate bark. Some gins have decided to add more cleaning equipment, additional stick machines and 2nd stage lint cleaning to help reduce bark calls.
As a service to ginners, most classing offices will process a few samples to determine if there is a problem with bark or any extraneous matter in the lint. They recommend you give them a call to discuss what options you have. As discussed, identifying the exact reason bark calls have significantly increased remains elusive. Hopefully this season will be more normal with bark calls being few and far between.
_________
Footnote: Bark level is determined by the USDA AMS cotton classing office. It is a manual determination based on visual standards. There is a level 1 and 2, almost all the bark calls are level 1. Bark is similar to cotton fibers and difficult to remove with conventional textile cleaning equipment. When bark gets entangled in the yarn it can cause yarn defects, breakage, or spinning ends down. Data indicate that ends down in spinning increase approximately 60% for each 1% increase in bark content of raw cotton. For some textile processes, bales with bark/grass are rejected by the mill.
Was the information on this page helpful?
This page can also be accessed from:
go.ncsu.edu/readext?243091