Brown Marmorated Stink Bug at Found at Damaging Levels in Piedmont Cotton- This Is a First…
For those accustomed to the rapid spread of kudzu bug, brown marmorated stink bug seems like a slowpoke. This is an insect we've been talking and warning about for years. Unfortunately it's decided to make its debut in Cleveland County. Here are some initial observations about it, predictions, and what should be done.
Brown marmorated stink bug (BMSB) is an invader from Asia. It has been confirmed in many parts of North Carolina, but its main distribution has so far been restricted to the mountains and Piedmont. In August, I received a report of this insect at damaging levels in Cleveland County, NC cotton. Previously, Ames Herbert, VA Tech, reported a single individual BMSB nymph present in VA Coastal Plain cotton. Dr. Herbert published studies caging this insect and demonstrating that it would not only feed on cotton, but that it actually preferred to feed on larger sized bolls (bigger than one-inch diameter) than our native (brown and green) stink bugs. The appearance of BMSB in our Piedmont is very consistent with its distribution and spread. So far, we haven't noted this insect at damaging levels farther into the coastal plain.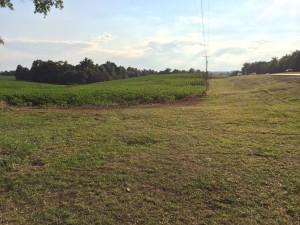 On a field visit to Cleveland County, NC, I noted that BMSB was the dominant species present. Green stink bug was also present, but not at the levels of BMSB (BMSB produces an attraction pheromone that is attractive to other species, such as green stink bug).
One field (pictured) had BMSB along the field edge near the mowed weeds. Likely stink bugs moved in from the weeds on the field edge into the cotton. In soybeans and corn, other researchers have documented that BMSB seems to prefer field edges in – dropping into the edges from adjacent woody hosts, especially tree of heaven, and not moving more than about 50-60 feet into fields. This has been good since growers have had some success with edge treatments. The woods pictured in the background of the photo were chock full of tree of heaven, but there was no stink bug injury near the woods. Furthermore, I visited another three acre field that was entirely infested with BMSB, with woods on at least two sides- there was no edge effect and nearly 100% of the bolls were damaged, with boll rot on all locules.
It's too early to say if the spatial distribution in cotton will follow that of corn and soybeans, but it did not during my initial observations. Therefore, for the time being, I am recommending sprays over the entire field, unless its distribution can clearly be delineated.
Another observation was that very small nymphs could easily feed on large bolls (our native brown and green stink bug adults cannot penetrate bolls larger than 1-inch in diameter). This is consistent with the studies by Dr. Herbert, VA Tech- and is not a good thing- since our stink bug threshold is based on sampling internal injury of one-inch diameter bolls. Likely our future established threshold for BMSB will be very different than the threshold for our native stink bugs.
BMSB is probably here to stay in Piedmont cotton, but will likely not spread farther in to the Coastal Plain. Our sampling of cotton will have to intensify to identify the species present. We recommend sampling internal injury from one inch bolls away from field edges for our native stink bugs. Growers who suspect BMSB should focus on field edges and see if they can delineate the extent of where the insects are. For now, internal injury can probably still be used as a good cue for development of stink bug injury. If BMSB is present and a spray is cued based on injury of one-inch diameter bolls, a spray should knock out insects that might be present in the future to feed on larger bolls.