Cotton Planting Conditions May 6, 2019
Find this article at:
go.ncsu.edu/readext?601230
Keith Edmisten, Professor of Crop Science & Soil Sciences and Extension Cotton Specialist
Guy Collins, Extension Associate Professor – Cotton
Planting conditions remain good. Note that the predicted cool temperatures for May 7 and 8 noted in the May 4 planting conditions report have moderated. The soil temperature at Rocky Mount was 60.3 at 6 a.m. and had started to increase by 7 a.m.
The table below is for Rocky Mount and based on the 10-day forecast. The first 7 days are based on the National Weather Service and the last 3 days are based on predictions from weather.com. As spring weather forecasts can often differ across the state, we strongly encourage you to get a more local forecast that can be easily updated daily using the new NC State University Cotton Planting Conditions Calculator. The calculator can be found on the Cotton website under the link "Calculators and Decision Aids" on the left side toolbar, or directly at the Cotton Planting Conditions Calculator page. We encourage growers to use and monitor the calculator twice daily to account for potential changes in weather forecasts for your region or farm. Simply click on your farm location on the map, and click "submit" for your local planting conditions forecast.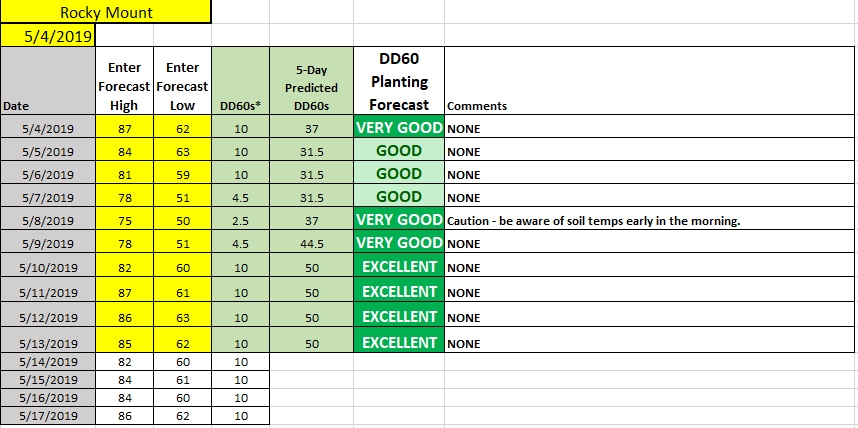 The 8-14 day (May 13-19) outlook is for normal to slightly below normal as indicated in the chart below by the National Weather Service.