PGRs?…Why Would We Talk About That Now? (Collins & Edmisten)
Find this article at:
go.ncsu.edu/readext?942206
Posted On

June 21, 2023
en Español

El inglés es el idioma de control de esta página. En la medida en que haya algún conflicto entre la traducción al inglés y la traducción, el inglés prevalece.

Al hacer clic en el enlace de traducción se activa un servicio de traducción gratuito para convertir la página al español. Al igual que con cualquier traducción por Internet, la conversión no es sensible al contexto y puede que no traduzca el texto en su significado original. NC State Extension no garantiza la exactitud del texto traducido. Por favor, tenga en cuenta que algunas aplicaciones y/o servicios pueden no funcionar como se espera cuando se traducen.

English is the controlling language of this page. To the extent there is any conflict between the English text and the translation, English controls.

Clicking on the translation link activates a free translation service to convert the page to Spanish. As with any Internet translation, the conversion is not context-sensitive and may not translate the text to its original meaning. NC State Extension does not guarantee the accuracy of the translated text. Please note that some applications and/or services may not function as expected when translated.

Collapse ▲
The purpose of this article is to address several questions we've received over the last week or so. Such questions include the following:
Should I walk away from this crop?
Should I reel in inputs, mainly fertilizer?
Should I be applying top-dress/side-dress fertilizer now?
Since this crop is so late, how much yield have we lost?
What should we be doing now?
So we'll try address these in whole or in part the best that we can, but perhaps in a different order and from a different angle than many expect. First, we need to clarify where we've been and where we are currently. Across the state, the crop is variable in terms of plant size as seen in the figure below. In many cases, there's fairly wide variation within a short range of distance or for fields planted within a fairly short time of one another (within a week or so). The figure below illustrates some of the variability in crop size that we are seeing across most areas of the state, but overall, it is smaller than it should be at this point.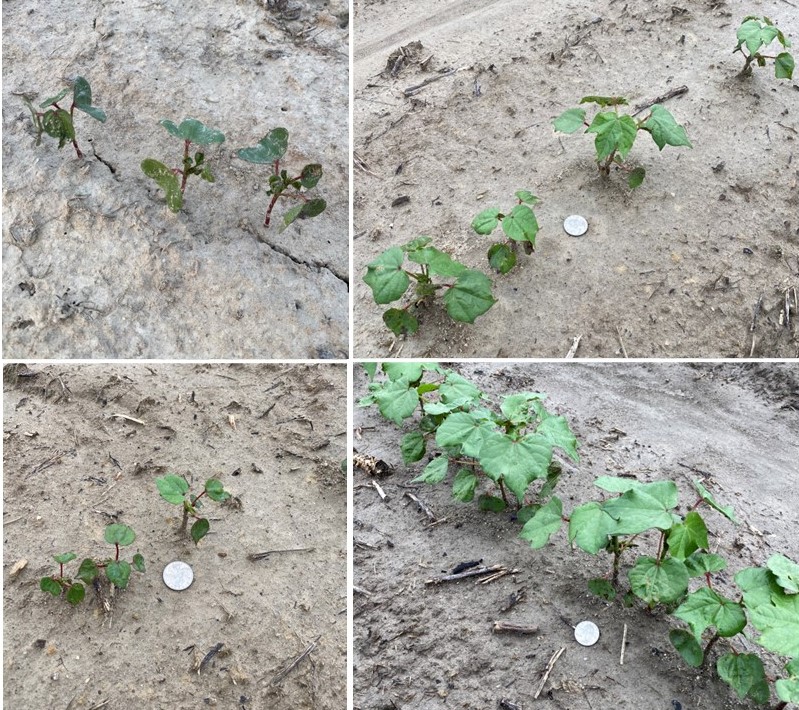 Yes, this crop is late and later than most late crops that we've had in recent years. For the most part, this crop emerged on time (or at least, not slowly) due to decent planting conditions, and we have decent stands in nearly all parts of the state. This point will be revisited later in this article. It shouldnt be a surprise to anyone that thrips have taken a toll on many fields across the state, with some areas impacted more so than others. A perfect recipe for thrips problems occurred this year, with intense overall thrips pressure, slow growth resulting from cool weather post planting (which magnifies the effects of thrips), and acephate resistance which, in many cases, allowed thrips to feed on seedlings for noticeably longer than normal. This issue seems to be behind us now, for most areas, and as predicted, cotton is starting to show signs of recovery and more rapid growth in the last two weeks than we've seen so far this season, due to warmer weather.
Recent dry weather has allowed us to develop a fairly good root system, but we are, or were, on the verge of seeing some adverse effects of prolonged dry weather, since we're only concerned about soil moisture in the top few inches of soil at this point. Some areas have recieved rain over the last day, with more expected. This is a relief, especially in areas with more corn acreage. Cotton has been affected very little by the recent dry period, but we were getting to the point of really needing some rain, and thankfully, some has arrived, at least for most areas. Some areas could use more though, and any moisture now will hopefully spur more growth. With rain, and some fertilizer, growth is expected to continue favorably, but we need to realize that fields with major damage from thrips will be slower to resume growth.
Many growers are applying their top-dressing or side-dress fertilizer, but several have inquired IF they should be doing so, or WHEN they should start, with the crop as small as it is. Our advice has been to go ahead and start, or keep going if you have already started. Yes, it's a little on the early side in terms of plant size, but a little fertilizer now may help spur some growth if it is accessible to the cotton seedlings. The only way we would regret appying fertilizer now is if we get several intense rains over the next several weeks that would amount to significant leaching or run-off. Aside from that, there's no harm in applying it now. In fact, the last thing we want to do is be late with this crop, even unintentionally. So, either continue with your fertilizer applications or go ahead and get going on it.
Along these lines, the next question we hear is should we reign in our fertilizer rates a little bit, given that this crop is so late? What they mean to ask is do we have lower yield potential, and should our fertilizer rates be lowered accordingly? The answer to that depends on what you planned on applying to start with. For example, growers with intentions on applying 120-140 lbs N probably need to reduce their rates to 80-90 lbs N (we are referring to total season-long N rates). But we'd tell you this same thing in most any other year, since all of our data suggests that high yields (3-4 bale yields) are achievable with somewhere between 70-100 lbs N, depending on the proportion of N applied at planting vs sidedress, leaching rains, etc. For growers with intentions on applying 80-90 total lbs N, they dont need to reduce their rates at all.
The second part to this question, that sometimes isnt blatantly asked, is: Since this crop is so late, how much yield potential have we lost? This in itself is a two-part question. First, if you've had major thrips damage, then yes, you can expect a 200-lb yield loss, safely speaking, and probably closer to a 300-lb loss in some of the worst cases. This would be pertinent to growers who noticed thrips problems, sprayed acephate, didnt check on it a day or two later, noticed worse injury a week later, sprayed acephate again, then finally sprayed Radiant, but at that point, alot of damage was already done. In some areas where growers experienced less thrips pressure or were quicker to apply Radiant, losses may be more in the 50-100 lb range. So a grower with major thrips damage, that was budgeting for a 1200-1300 lb crop is now looking at 900-1000 lb potential. Growers with minor thrips damage may be looking at 1100-1200 lb potential.
Aside from thrips, if we focus on maturity alone, have we lost any or much yield potential from this crop being so late? I dont believe we have, at least not yet. Yes, this crop is late, but aside from thrips damage, it's really no different from cotton planted in the first week of June in any other year, although we have a much higher proportion of our acreage in this scenario this year. If some cotton is 4-5 weeks away from blooming, and it may not be that far off, then that safely leaves us with a 6-week bloom period to make a crop, and that is a reasonable time-frame to achieve normal yields. It IS late, and we ARE more reliant on weather from this point forward, than normal, but are yield potential is rather unaffected by maturity alone at this point. We DONT need a cloudy, cool, constantly wet July and August, nor do we need those conditions going into the fall, but that would be a relatively abnormal year for us to have. If we have "normal" warm/hot sunny days with timely rain throughout July and August, followed by a decent Fall with sunny, warmer, drier days, we'll be fine. If its exceptionally hot and dry in August, which we dont want, maturity wont be an issue at all. So alot is dependent on what happens weather-wise from this point forward, and we dont know what that will be. But it would take an abnormal year to really reduce our yield potential. What we DO need to focus on is being EXTREMELY TIMELY with our management (insect sprays, PGRs, irrigation if you have that capability) and avoid any practice that might delay this crop further (any product or tankmix that could burn or stunt this crop more than it is already). Treat this crop as if it was all planted during early June and manage for earliness.
Should we abandon this crop? Most are asking this because they still have time to switch to beans without a crop insurance penalty. We may have already addressed this in previous paragraphs. One could make an argument for abandoning a few fields where yield potential is severely reduced by thrips and the crop remains very small. But these are not extremely common. Also, we've got good stands for the most part, and we've got alot invested in this crop already. Yield potential may have been impacted to some degree by thrips and if so, budget accordingly. In other cases, yield potential is the same as in any other year. There are very few cases that we would recommend abandoning, based on what we know at this point in time and what is likely to happen during the remainder of the summer. We dont know what we dont know, and we speak directly to weather patterns for the summer, which are incredibly difficult for anyone to predict. But given the good stands we have, signs of recovery and growth in most areas, we see very few fields that would need to be abandoned or debated for abandonment.
So what should we be doing now? In short, avoid anything that might further delay this crop, and be very TIMELY with management inputs that are justified, primarily insect management and PGRs, which brings us to our last point……PGR's. So why would we mention that now? Naturally, no one in their right mind would be applying PGRs now in most of the state. But given that this crop is late, it may not be long before growers have the urge to start managing for earliness. That is understandable, but we encourage growers to use a sense of caution in this. As mentioned earlier, for the most part, this crop emerged on time and with good stands. Due to cool weather, this crop has just sat there and not grown much until very recently. The date of first bloom is a function of several factors, including heat unit accumulation, environmental conditions during and around planting and emergence which can dictate what node will be the first fruiting branch, and other factors, including time alone. In a normal year, we would expect to see first bloom occur at 57-60 days after planting, assuming emergence occurred within a week of planting, and sometimes as early as 53 days in years when we have a hot late May and June. In years where cotton is slow to emerge (2-3 weeks after planting), the date of first bloom can still occur at around 60 days after planting, if we have normal temperatures in May and June. This year, it would not surprise us to see the date of first bloom stretched out to 65 or more days after planting. But at some point, it will begin blooming, and occasionally it can simply be a function of time, as remember that this crop came up, relatively, on time. Our point here is that we are currently seeing 6-7 leaf cotton this year that is the size of 3-4 leaf cotton in a normal year, and if that trend continues, we COULD see cotton begin blooming while the plant is abnormally and very short. Alot could change between now and then, so we simply state that this is a possibility at this point. But, abnormally short cotton that begins blooming is at risk of premature cutout, if any small dry spell occurs during the early part of the bloom period. Cotton can recover from a cutout in these scenarios when it has a small boll load, but it becomes very reliant on continuous rainfall to keep it from severely cutting out. So we say all this now in case some growers have intentions on hammering this cotton preemptively (prebloom) with PGRs for the sake of managing for earliness. Yes, we need to manage it for earliness, but we dont need to risk reducing yields for the sake of earliness. Therefore, we need to do all we can within reason to allow/promote this crop to grow and set fruiting nodes, both now and for several weeks to come. Once it begins blooming, we can then evaluate plant size and growth rate , and we need to be TIMELY with PGRs AT THAT TIME, assuming PGRs are needed then. But we DONT need to arbitrarily anticipate that future growth will be excessive and hammer it with PGRs just because this crop is late. Let it grow for now and for a while, and manage growth reactively at the time that it is needed, not before when we are just guessing that it growth might become excessive.